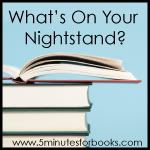 I can't believe it's already time for the
Nightstand
post! I didn't even read everything on last month's list because I kept getting distracted by other books. Such is the life of a library addict...
For 2011, I've decided to skip reading challenges (we'll see how long that plan lasts). Instead, I'm going to read a book from each of several genres every month. I haven't decided which genres, but it will definitely include memoir, history, and Christian nonfiction. I am going to test out that idea this month and see how it goes.
Christian Nonfiction
The Surrendered Wife
, by Laura Doyle
Biography
The Singular Mark Twain
, by Fred Kaplan
Fiction
- both of these are to fulfill challenges for 2010
Sense & Sensibility
, by Jane Austen
A Blue and Gray Christmas
, by Joan Medlicott
And of course I am going to continue
The History of the Ancient World
until it is due back at the library.