We have returned! I have tons of photos and stories to share but it will be awhile before everything gets written and the photos are edited.
Note - this was supposed to be published while we were in Portland but Blogger was not cooperating. I tried to publish it several times but wasn't having any luck. So, I'm going to post it now! Better late than never.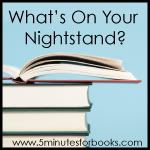 I've read quite a lot this month, though a good portion of it is children's classics. My husband and I are in Portland this entire week so I probably won't get much more reading done this month!
COMPLETED (links are to my full reviews)
Children's literatureClassicsChristian FictionMemoirNonfictionSecular Fiction
IN PROGRESS
Happy November reading!