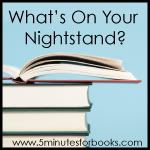 Last month I decided to try an experiment. When I read through each of the Nightstand posts, I kept track of how many books were added to my to-read list due to others' recommendations. Normally there are three or four. Last month I added 16! Nine nonfiction books and seven fiction.
Throughout the month, I kept track of how many books I finished off my to-read list, as opposed to those I picked up randomly at the library or those I was mailed to review. I finished one nonfction book (
I am Nujood
) and two fiction books (
Evelina
and
William Henry is a Fine Name
).
And this, my fellow readers, is why my to-read list keeps getting longer each month in spite of the numerous books I finish.
This month I read:
Bible
Christian Fiction
Whence Came a Prince by Liz Curtis Higgs - 2.5 stars. Mixed feelings. The writing is terrific. But this retelling of Jacob and Leah and Rachel is SO far off the Biblical story that it should be its own story. I was very unhappy with the ending.
Love's Sacred Song by Mesu Andrews - 4 stars. Fantastic book! I am anxiously awaiting Andrews' next book publication.
Memoir
Mr. CSI: How a Vegas Dreamer Made a Killing in Hollywood, One Body at a Time - 3 stars. Not really about CSI but an interesting and inspiring account of a man trying and trying and trying again until he succeeds.
Secular Fiction
South of Superior by Ellen Airgood - Barely 3 stars. It's an adult coming-of-age book where nothing happens. I felt it was saying that life is hopeless.
Evelina Or, the History of a Young Lady's Entrance Into the World by Fanny Burney - 3.5 stars. One of my favorite September reads. Very witty lines and it's obvious why Jane Austen was inspired by Burney. I can't wait to read more of her works, especially since I've read Evelina is one of her weakest novels!
Currently Reading
Time and Again by Jack Finney - I am almost done with this story and thoroughly enjoying it. I've not read many time travel books but I've seen a ton of movies. Once I finish the book, I'll dig around to see if they ever made it into a movie.
The Cloister and the Hearth by Charles Reade - My current classic. I'm not sure how I came across this book but it's interesting thus far (pg 50 out of 785).
Happy reading!