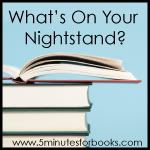 Most of November was spent finishing up the
Bible in 90 Days
. I finished, in chronological order:
All month long, I kept thinking I wasn't reading much outside of the Bible. But now, browsing through my Goodreads reviews, I realize that I finished way more than I thought. Links are to my full reviews.
Christian Fiction
The Rose of Winslow Street by Elizabeth Camden - 4 stars. Another great read by Camden. If she continues to publish great books, she'll make my short list of favorite authors.
Christian Nonfiction
Midnight in Aisle Seven: Sometimes God introduces Himself outside of church by Jay Lowder - 2 stars. I haven't finished the review yet but will this week.
A Big Life: Ordinary People Led by an Extraordinary God by Peter Hone - 4 stars. I am still working on the review for this book as well but I highly recommend it.
Classics
North and South by Elizabeth Gaskell - 4 stars. A thorougly satisfying classic with great themes.
General Nonfiction
Twisted Whiskers: Solving Your Cat's Behavior Problems by Pam Johnson - 3.5 stars.
Psycho Kitty? by Pam Johnson-Bennett - 4 stars. A fantastic cat book that helped us curb several behavioral issues in our four year old male.
Secular Fiction
Currently reading
The Brothers Karamazov by Fyodor Dostoyevsky. I was sure this was going to be a difficult book to read. It's taking me a long time to read but doesn't require nearly as much effort as I had expected.
Think Like a Cat: How to Raise a Well-Adjusted Cat--Not a Sour Puss by Pam Johnson-Bennett
Overall, it was a pretty good month. I can't wait to see what December brings!