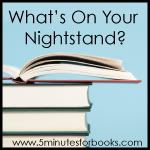 Bible Reading
Biblical Fiction
Christian Fiction
Healing Stones by Nancy Rue and Stephen Arterburn - 3 stars. A very interesting portrayal of the challenge that he who is without sin should be the first to cast stones.
The Choice by Robert Whitlow - 3.5 stars. A look at what teens go through as they try to decide if they will abort, adopt out, or raise their baby.
Unending Devotion by Jody Hedlund - 4 stars. The best fiction book I read in February, a tale involving American Old Midwest brothels and mining towns. Based on a true story!
Against the Tideby Elizabeth Camden - 3 stars. Good story. Lacking character development.
Classics
The Scarlet Letter by Nathaniel Hawthorne - 3 stars. It's obvious why this book is a classic, even if I didn't care for the actual story.
Memoir
Currently Reading
First Light by Bodie Thoene, Brock Thoene - I love the Thoene's books. This is a reread.
Mrs. Lincoln's Dressmaker by Jennifer Chiaverini - Her newest novel, the first novel not part of the Elm Creek Quilters series.
I'm also linking up with Judy's
reading post
.
Happy March reading!