I probably shouldn't have used the word "depression" in my last post. I know that depression is a serious medical issue and I don't think my emotional troubles are as serious as depression. Melancholy would have been a better choice of words. Whatever it is, it stinks and I'm still fighting it.
It probably doesn't help that I've been made aware of and have been in deep thought about some serious issues. Right now I'm reading two heavy books.
Clara's War
is based on the diary of a Polish teenager who survived World War II by hiding in a bunker dug beneath a house. She shared that bunker with 17 other people. It's one of the most intense Holocaust books I've read.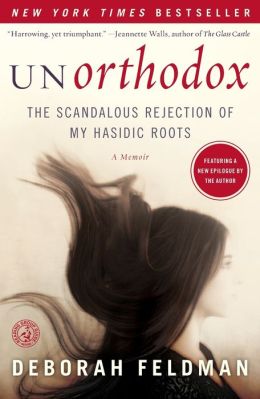 Unorthodox
is the memoir of a woman who grew up in a Hasidic Jewish family. I've read the first third of the book and my heart breaks for the author. Her mother rejected Judaism and left the family. Her father is mentally challenged and cannot take care of her. She is left to be raised by her grandparents and never fits in. She struggles with her sense of self-worth and questions if God loves her.
Recently, I've been seeing a homeless woman on a corner near my house. She looks to be my age or a little younger. She holds a sign that says she's pregnant. Several weeks ago, we were sitting at a stoplight and I saw her turn our direction. She was bawling. My heart broke for her. The light turned green and we had to keep moving. We circled the block but she was gone before we returned. I didn't see her for two weeks and worried something had happened. The next time we saw her, we stopped and I spent a couple minutes talking to her, finding out her name. I've seen her several times since and I know she lives out of her car.
Today I was reading blog posts about children who are involved in the Compassion International program. One of the bloggers visited Ghana and came
face to face
with child slavery. In today's world. Now. Children sold into slavery. My heart broke again.
I do not question God's love nor have I ever been persecuted for my faith. I am not hungry or unloved or wanting for anything material. I live in a free country.
However, this world is broken. It sucks. People are still slaves. People are living in their cars when the night temperatures drop below freezing. Wars continue. Suicide bombings. Human trafficking.
My own problems seem so trivial. My husband works an insane number of hours. Compared to children being forced into slavery, so what? I ache to be a mother but don't see that happening in the foreseeable future. Compared to the pregnant homeless woman down the street from me, so what? My heart breaks both for my own struggles and for people globally. I don't know how to take it less personally, how to be less affected by suffering and death. I have not yet learned to face social / political / religious issues without feeling like the world is tumbling down and feeling helpless in the face of all of it.
I know Who holds the only answer - God. Unfortunately, my head and my heart have not yet met. I
know
that God is in control. I
know
that He can give peace in the midst of this world. How do I tell my heart?