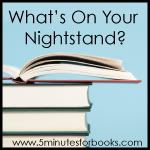 I read a lot of books this month. After a month of nothing but nonfiction and then another month of only reading the Bible, I had so much fun raiding my local libraries. I knew I couldn't complete everything I picked out, but I was impressed by how much I did finish! All links are to my full reviews on Goodreads.
Bible
- This month I continued reading the Bible first thing in the morning and last thing before I go to sleep. It's such a blessing!
Children's literatureChristian FictionChristian Nonfiction
Raised Right: How I Untangled My Faith from Politics by Alisa Harris - 4 stars. A great read, one that I have kept for a reread.
Memoir
Wrong About Japan: A Father's Journey with His Son by Peter Carey - 3 stars. Some funny moments but overall I didn't really learn anything new about Japanese culture.
Secular Fiction
A Walk Across the Sun by Corban Addison - 4 stars. A fantastic book, deals with a very tragic topic - human trafficking. This book will probably be one of my top reads for 2012.
Sonoma Rose by Jennifer Chiaverini - 3 stars. Much better than her last novel!
The only specific book I intend to read next is Pilgrim's Progress, March's choice for the Reading to Know
bookclub
.
Instead of a nightstand this month, I have a spare bedroom floor. I sorted through all of the books that we had packed in boxes and started making piles. Some books are definitely going with us. Some will be donated to the library. The biggest pile of all is books I have not yet read and need to decide if we will pay to ship them to Seattle. My upcoming book selections will be coming from that pile.
My "nightstand"
Happy March reading!