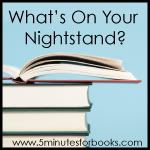 I'm still working through the
Bible in 90 Days Chronological Reading Plan
so my "other" reading has gone down a bit this month.
Bible
As always, links are to my full reviews.
Christian Fiction
The Quilt by T. Davis Bunn, Davis Bunn - 4 stars. A heart warming story!
A Passion Most Pure by Julie Lessman - 1 star. For a book titled A Passion Most Pure, there is a lot of passion. Way too much for my taste. I cannot recommend it.
Christian Nonfiction
General Nonfiction
Secular Fiction
Time and Again by Jack Finney - 4 stars. Fantastic time travel story with NYC as the main character. I wish they'd turned it into a movie!
Currently Reading
Last month I added three books to my list due to the Nightstand posts. I read two off my to-read list. Not bad! Of course, we'll see how many get added this month...
Happy reading!!