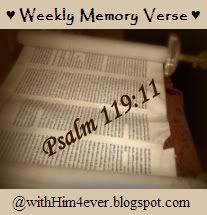 I can't believe I haven't posted this week's verse yet. I think I'm going to start posting them on Sundays, so that I remind myself to start memorizing it.
Last week's text went well (Romans 8:1) so I'm going to memorize another that has the same theme.
For this is good and acceptable in the sight of God our Savior,
who desires all men to be saved and to come to the knowledge of the truth.
1 Timothy 2:3-4, NKJV
The second verse is the one I greatly need to memorize. It's such a reassurance that God wants all men to be saved, not just a few.