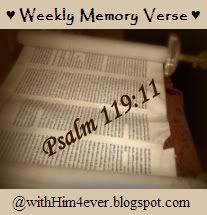 What happened to last week? It went by so quickly I barely noticed. And now it's Monday again. I screwed up last week. I waited so long to post my verse online and then forgot to study it. So I'm starting over with this text and I'm going to learn it again this week.
For this is good and acceptable in the sight of God our Savior,
who desires all men to be saved and to come to the knowledge of the truth.
1 Timothy 2:3-4, NKJV
I study Japanese for hours every week and memorize Kanji, vocabulary, etc. so I really have no excuse for not memorizing Scripture. It just needs to be more of a priority. I'm telling everyone that I made a mistake last week in hopes that it will encourage me to do better this week. I don't want to post this same message again next Monday!