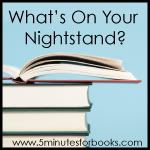 I didn't do that much reading in January. I wanted to, but I felt a greater drive to progress in my Japanese studies. Almost all of my free time has been working with Japanese, so I've already completed 30 study hours so far this month.
Books completed in January
(links are to my reviews):
Slave
, John MacArthur
Bleak House, Charles Dickens - dropped it 1/3 of the way through. I just couldn't get into it and didn't see the point of forcing myself to finish.
A Proper Pursuit
, Lynn Austin
Fire by Night
, Lynn Austin
Currently reading
Memoir/Autobiography/Biography -
Three Cups of Tea
: One Man's Mission to Promote Peace . . . One School at a Time
Health/Cookbooks -
Skinny Italian
: Eat It and Enjoy It - Live La Bella Vita and Look Great, Too!
Christian life -
The Walk
: Clear Direction and Spiritual Power for Your Life (Review copy)
Theology - Proverbs (Bible) - reading a chapter a day, will finish January 31.
To-read in February
Homemaking -
The Well-Ordered Home
: Organizing Techniques for Inviting Serenity into Your Life
Christian life -
Becoming a Woman of Excellence
For fun -
Beaded Hope