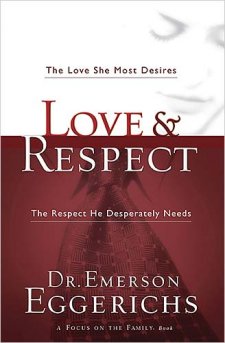 Would anyone be interested in reading
Love & Respect
, by Emerson Eggerichs, along with me? I read it last year and really enjoyed it. Unfortunately, the book was a library copy so I wasn't able to take my time with it. This time, I want to read more slowly and try to implement some of the principles.
The book is based on Ephesians 5:33. From inside the book jacket:
Psychological studies affirm it, and the Bible has been saying it for ages. Cracking the communication code between husband and wife involves understanding one thing: that unconditional respect is as powerful for him as unconditional love is for her. It's the secret to marriage that every couple seeks, and yet few couples ever find.
If anyone is interested in reading along with me, just let me know. I was thinking a chapter a week and I want to discuss it in a blog post - what I learned, how I implemented it, what happened.