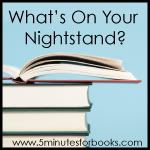 This month I concentrated on reading as many of my library books as possible so that I can start working through the Seattle to-sort pile. My library stack is now quite small! I even completed several books from the to-sort pile (marked below with a *).
Bible
- I am so close to finishing the Old Testament! I can't wait to start reading the New Testament.
Children's literatureChristian FictionHistoryMangaMemoirNonfiction
Fat Quarter Quilts by M'Liss Rae Hawley - 2 stars only because I didn't care for any of the quilt designs. It might be a great book for quilters who have a different taste in quilts.
Secular Fiction
April will be filled with books from The Pile. [Cue ominous music here]
The Pile
Happy reading!