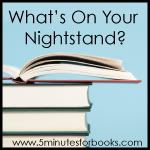 I love putting together these lists for the Nightstand posts because I'm always amazed at what I end up reading. This month it was mostly the Bible and Christian fiction. The books were very hit or miss for quality and I'm hoping to have a more consistent month in September!
Bible
Christian Fiction
The Amish Nanny by Mindy Starns Clark - 3.5 stars for the unique setting (don't judge the book by its cover!).
Ruby's Slippers by Leanna Ellis - 2 stars. I'd recommend skipping it simply because it wasn't good.
Here Burns My Candle by Liz Curtis Higgs - 2 stars. I couldn't get into it and decided to drop it. There are too many good books available to waste my time on something I can't get into.
Love Amid the Ashes by Mesu Andrews - 3.5 stars. SO close to a 4 star read. If you enjoy Biblical fiction, I would highly recommend this one.
Japanese Manga (translated)
Apothecarius Argentum, Vol. 1 by Tomomi Yamashita - 3 stars. All of the manga I sampled was fluffy but entertaining. Not something I'll read on a regular basis.
Memoir
A Lucky Child: A Memoir of Surviving Auschwitz as a Young Boy by Thomas Buergenthal - 3
Secular Fiction
The Little Nugget by P.G. Wodehouse - 3.5 stars. An enjoyable read but, surprisingly, I enjoyed the short stories better!
Currently Reading
Evelina by Fanny Burney - I'm not reading it very quickly but I am enjoying it very much. I will definitely be reading some of Ms. Burney's other titles.
Happy reading!