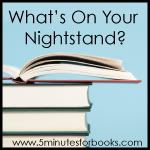 I haven't done a Nightstand post in ages. I've been posting most weeks about what I'm currently reading but haven't done a monthly roundup since... February?
Here are the notable books I've read this month:
The Shoemaker's Wife by Adriana Trigiani - 4 star read and a new favorite. The Goodreads description: Lush and evocative, told in tantalizing detail and enriched with lovable, unforgettable characters, The Shoemaker's Wife is a portrait of the times, the places and the people who defined the immigrant experience, claiming their portion of the American dream with ambition and resolve, cutting it to fit their needs like the finest Italian silk.
Blue Skies Tomorrow by Sarah Sundin - 4 stars. A Christian historical novel, I didn't realize this was part of a series when I borrowed it from the library. I recognized the author's name but wasn't sure if I had read the previous books in this particular series. It turns out I haven't, but that didn't spoil my enjoyment of Blue Skies Tomorrow. It definitely stands on its own.
The 4-Hour Workweek by Timothy Ferriss - I had no idea I would like this how-to guide on starting a business. I picked it up for my husband and he devoured it. He kept quoting various passages to me so I read it for myself. I don't know if I'll ever start my own business, but the possibilities are definitely floating around in the back of my mind.
Upcoming reads:
Everything I'm
currently trying to finish
.
Ashton Park
by Murray Pura
A Heart for Freedom
: The Remarkable Journey of a Young Dissident, Her Daring Escape, and Her Quest to Free China's Daughters by Chai Ling
Getting Things Done
: The Art of Stress-Free Productivity by David Allen
Happy reading!!