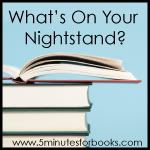 My reading is going to be a bit different next year and my Nightstand post reflects that. I read just shy of 100 books in 2010 and will aim for 52 in 2011. Even though I'm reading fewer books, I want to be more selective about my choices and read higher quality books. I'll explore that idea in a blog post later this week, detailing what challenges I'm joining and why. (Yes, I succumbed to the siren call of reading challenges...)
But for now, here is my reading plan for January.
Christian life -
The Walk
: Clear Direction and Spiritual Power for Your Life (Review copy)
Theology -
Slave
: The Hidden Truth About Your Identity in Christ (Review copy)
Homemaking -
The Well-Ordered Home
: Organizing Techniques for Inviting Serenity into Your Life
Memoir/Autobiography/Biography -
Three Cups of Tea
: One Man's Mission to Promote Peace . . . One School at a Time
Health/Cookbooks -
Skinny Italian
: Eat It and Enjoy It - Live La Bella Vita and Look Great, Too!
Classics -
Bleak House
- Hubby challenged me to read it. Not sure it's my kind of book, but we'll see.
I'm also trying to learn how to cook and have a stack of books on my desk to pull from as I have time (Baking, Veganomicon, Absolutely Chocolate, Modern Spice, Easy French Cuisine, Newstart Lifestyle Cookbook). Here is my kitty trying to convince me that his food is more important than mine!