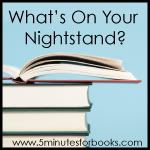 I've read quite a bit this month but most of the books are more challenging than my normal reading. Thus, I've not read quite as many titles. I have a feel October will be like that as well.
This is what I'm going to attempt in October, but I know I will not complete all of these.
These are not all of my books. The open book is my husbands as he is learning C#. No idea what that is, but he calls it "light reading!" He also has a couple of other art and computer books in that stack, so I'm not completely insane!
My priority books:
The Importance of Being Earnest
- I have seen two movie adaptations of this play and I loved them both. It's time I read the play!
How to Read and Why
- I've read
How to Read a Book
and I've heard
How to Read and Why
is also very good.
The History of the Ancient World
: From the Earliest Accounts to the Fall of Rome - I don't plan on reading this entire book, but I do want to start it. Even though I progressed through the normal history classes in elementary and high school, plus another year or so in college, I feel ignorant. I want to match up Biblical history with the rest of the world, to gain an idea of what else is going on during the time of Abraham, David, and Christ. I want to put the Bible in context!