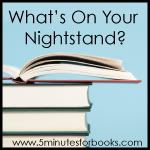 February was an odd month of reading for me. I read a bit more than last month but still not as much as "normal." I'm still working on being more selective with what I read so that I only read quality books, even involving those I am reading purely for entertainment.
Books completed in February
(links are to my reviews):
Love and Respect for a Lifetime
, Emerson Eggerichs
The Call of Zulina
, Kay Marshall Strom
Prayers for Sale
, Sandra Dallas
Beaded Hope
, Cathy Liggett - a must-read!
Currently reading
- A lot of this is carryover from last month as I am still plugging away.
Memoir/Autobiography/Biography -
Three Cups of Tea
: One Man's Mission to Promote Peace . . . One School at a Time
Health/Cookbooks -
Skinny Italian
: Eat It and Enjoy It - Live La Bella Vita and Look Great, Too!
Christian life -
The Walk
: Clear Direction and Spiritual Power for Your Life (Review copy)
Theology - Genesis (Bible) - reading in six different translations, focusing on God in each story rather than Adam, Noah, etc. Today I finished chapter 8.
For fun -
The Romanov Bride
To-read in March
Finish everything I'm currently reading! I hesitate to add more books to my pile as it'll be difficult to finish everything I've already started. But... if I can get to them, I want to read:
Christian life -
The Ultimate Makeover
: Becoming Spiritually Beautiful in Christ
Memoir/Autobiography/Biography -
Dreams from My Father
: A Story of Race and Inheritance