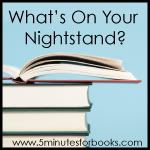 I've read a lot this month and I finished the majority of what I aimed to finish in September. This month I took to heart some advice to grasp even the 5 minute periods available for reading instead of waiting until a chunk of time comes available. I've been amazed at how much more I've been able to read, even if some of it is in snippets!
COMPLETED (links are to my full reviews)
BiographyClassicsChristian FictionMemoirSecular Fiction
IN PROGRESS
Upcoming
What I am particularly excited about:
Happy reading, everyone!