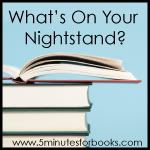 I've been out of town and away from libraries for so long that I haven't been reading that much. I did read a couple books from my personal bookshelves, a difference from my normal insistence on reading borrowed books. Last week we were finally able to sign up for our new library cards and I brought way too many books home. Such is the life!
Here's what I have managed to read in the past month or so. Links are to my reviews on Goodreads.
Bible
Christian Fiction
Promise Me This by Cathy Gohlke - 4 stars. Fantastic book! Highly recommended.
Christian Nonfiction
Secular Fiction
Currently Reading
A Lucky Child: A Memoir of Surviving Auschwitz as a Young Boy by Thomas Buergenthal
Sacred Influence: How God Uses Wives to Shape the Souls of Their Husbands by Gary Thomas
Happy reading!