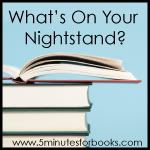 It has been ages since I've participated in a
Nightstand
post but I finally remembered to write up a post on the correct day!
I have two shelves full of library books. The top shelf is mostly adult books whereas the second shelf is full of kids' books that I am previewing for my future daughter. I'm slowly starting to build up a personal library of children's books but want to make sure they are quality books.
This first book is one I am most excited about -
Dinotopia
. I'm not familiar with it but a friend recommended it. We've flipped through it and the artwork is fantastic! I can't wait to read the story.
Kisses from Katie
has been on my to-read list for ages and I finally borrowed it from the library. Hopefully I can finish it before it's due next week.
This last book is one I definitely need to buy.
You're Loved No Matter What
has been powerful and I'm only 50 pages in. I have struggled to feel worthy of love as far back as I can remember. I'm still trying to find my worth as a daughter of the King and hope that this book helps a bit.
Last but not least, I'm working my way through
Christy
, this month's Reading to Know
bookclub selection
. I definitely won't be finishing it by the end of the month but I'm glad for the chance to reread it.
What have you been reading lately? I'll be taking a flight to Taiwan later this summer and am in need of a good book, something engaging but that doesn't require a lot of thought. It's a 12 hour flight so a thick book would be great! Anything you'd highly recommend?