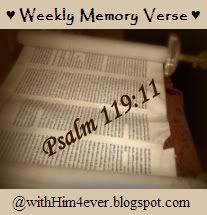 I haven't posted a memory text is several weeks. This week I picked a verse that is an awesome praise to God and a wonderful promise.
The LORD is my strength and my shield;
My heart trusted in Him, and I am helped;
Therefore my heart greatly rejoices,
And with my song I will praise Him.
Psalm 28:7
I look forward to memorizing it!